fralliDEA is contemporary jewelry: 3D printed rings, pendants and earrings; textiles and illustrated jewels;  paper or clay necklaces, earrings and rings. One of a kind pieces, or in limited editions, entirely handmade.
Nature, colors, cinema, architecture, literature, materials are my sources of inspiration for the various collections, each of them different from the others in style and techniques.
All fralliDEA jewelry findings are hypoallergenic and nickel-free.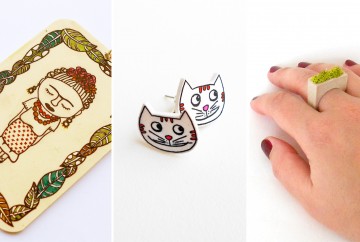 You cannot resist to innovation and geometrical shapes? The Archi-Toits and Thicket-à-porter 3D collections are made for you. Colors and their combinations have no secrets for you? You are the queen of palettes? Let yourself be tempted by the Martians and the Spaghetti earrings and necklaces. Ethnic style and tribal elements catch you? You will […]