You cannot resist to innovation and geometrical shapes? The Archi-Toits and Thicket-à-porter 3D collections are made for you.
Colors and their combinations have no secrets for you? You are the queen of palettes? Let yourself be tempted by the Martians and the Spaghetti earrings and necklaces.
Ethnic style and tribal elements catch you? You will love the illustrated  feathers jewels in the Cuteness collection or the corrugated cardboard necklaces in the Vertigo collection.
And there are many other collections to discover that are waiting for you!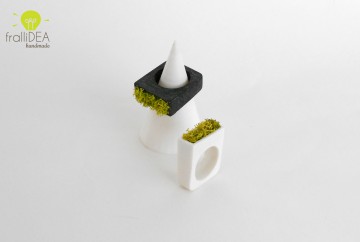 Thicket-à-porter is a 3D printed jewerly collection inspired by nature. Rings, earrings, pendants and brooches are decorated with real moss. Their simple shapes are perfect to bring a bit of nature with you. You can choose ring size and color. Share this: